Askey Introduces Next-Gen Network Solutions Targeting Automotive, Civil, and Small and Medium Business in MWC Barcelona 2022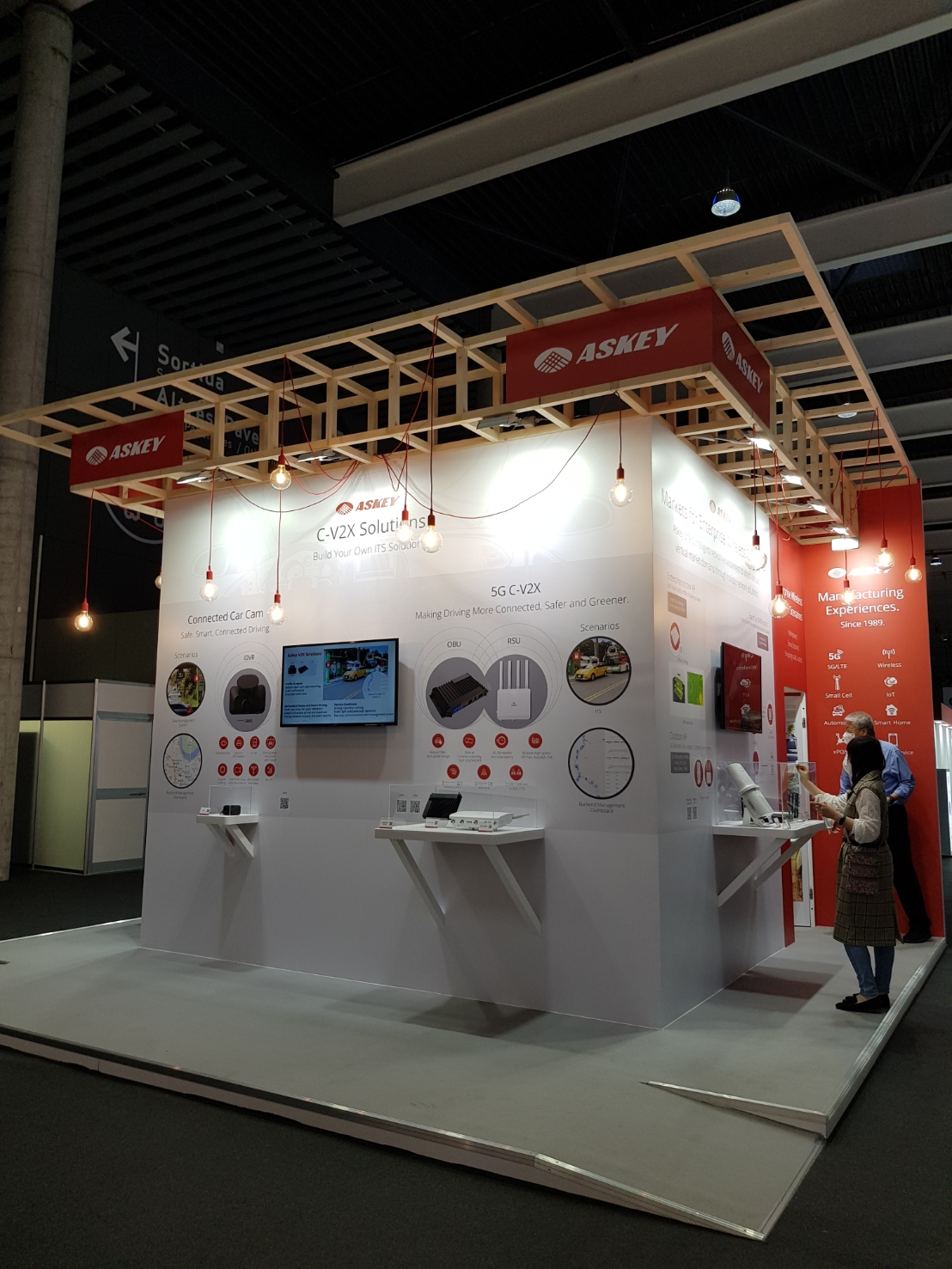 Taipei, Feb 28, 2022
– MWC 2022 – Askey announces to join the MWC 2022 on February 28, 2022, and will showcase three themes including 5G Automotive Solution, Civil IoT Solution, and Wi-Fi 6 Enterprise Wireless Solution (EWS). 5G Automotive Solution highlights next-gen OBU and RSU, which fulfill real-time detection and reports for buses, vehicles or fleet management. Moreover, with architecting micro weather management and backend management for disaster prevention solutions of Taiwan Ministry of Science and Technology, Askey provides Civil IoT Solution in many local spots of Taiwan. Finally, in response to the digital upgrade of enterprises, Askey also performs Enterprise Wi-Fi 6 Solution with stable, fast and highly capable of coverage extension for offices, plants or shopping malls.
Automotive Solution
Askey Automotive Solution integrates 5G V2X OBU/RSU, iDVR and the dashboard located in ITS offices, it supports to monitor and record data, vehicles/buses locations, waiting passenger flows and more. With shipment over 2 million, Askey iDVR provides multi-directional driving vision, pedestrian and signal detection, driving speed warning, etc. It is not only equipped with handy built-in Alexa for voice command, but can make emergency call, save video footage and upload the video to the cloud when a car accident happens. Featured with traffic analysis, self-control status and smart driving, and vehicle conditions monitoring, this solution is ideally for car rental companies, logistics providers, insurance companies, and courier delivery services, etc.
Civil IoT Solution
Based on over 35 years Netcom experience, Askey has collaborated with Taiwan Ministry of Science and Technology to build up Civil IoT Solution, which is deployed in various fields such as river-bank areas, flood-prone areas, farms and greenhouses, commercial seaports and other places. By integrating the sensors of water resource, earthquake, and air quality in sensor facilities with Askey network structure including LTE/Cat-M1 core network, B20 LTE/Cat-M1 small cells, with connecting by IoT Cat-M1 gateway to get data from sensors in fields, it performs cost-effective and highly capable of coverage extension, and uses licensed bands to secure data transmission, specially designed for IoT applications.
Enterprise Wireless Solution
To solve the pain points of SMBs, Askey provides end-to-end EWS with customized infrastructure systems and service to meet critical requirements for vertical application. This Wi-Fi 6 11ax solution is designed for enterprises, plants, civil free Wi-Fi, and featured with easy deployment, management and quick extension for the network coverage of data, voice/video streaming. With supporting NAC, Radius (802.1x), Microsoft AD, captive portal SSO and MAC authentication it ensures the access that is highly secured. By great cost-efficiency and device management capability, Askey EWS simplifies the network maintenance by easily managed from Cloud based EMP/AMP or on-premises EMP/AMP.
Askey is pleased to showcase the latest Netcom solutions through dynamic demonstration. Come and experience relevant innovations that will enchant your customers and give you a clear competitive edge. Looking forward to seeing you in
Booth# 5C11, Hall 5, Fira de Barcelona.