Askey Showcases Next-gen Wi-Fi 7 Applications and Driving Technology at CES 2023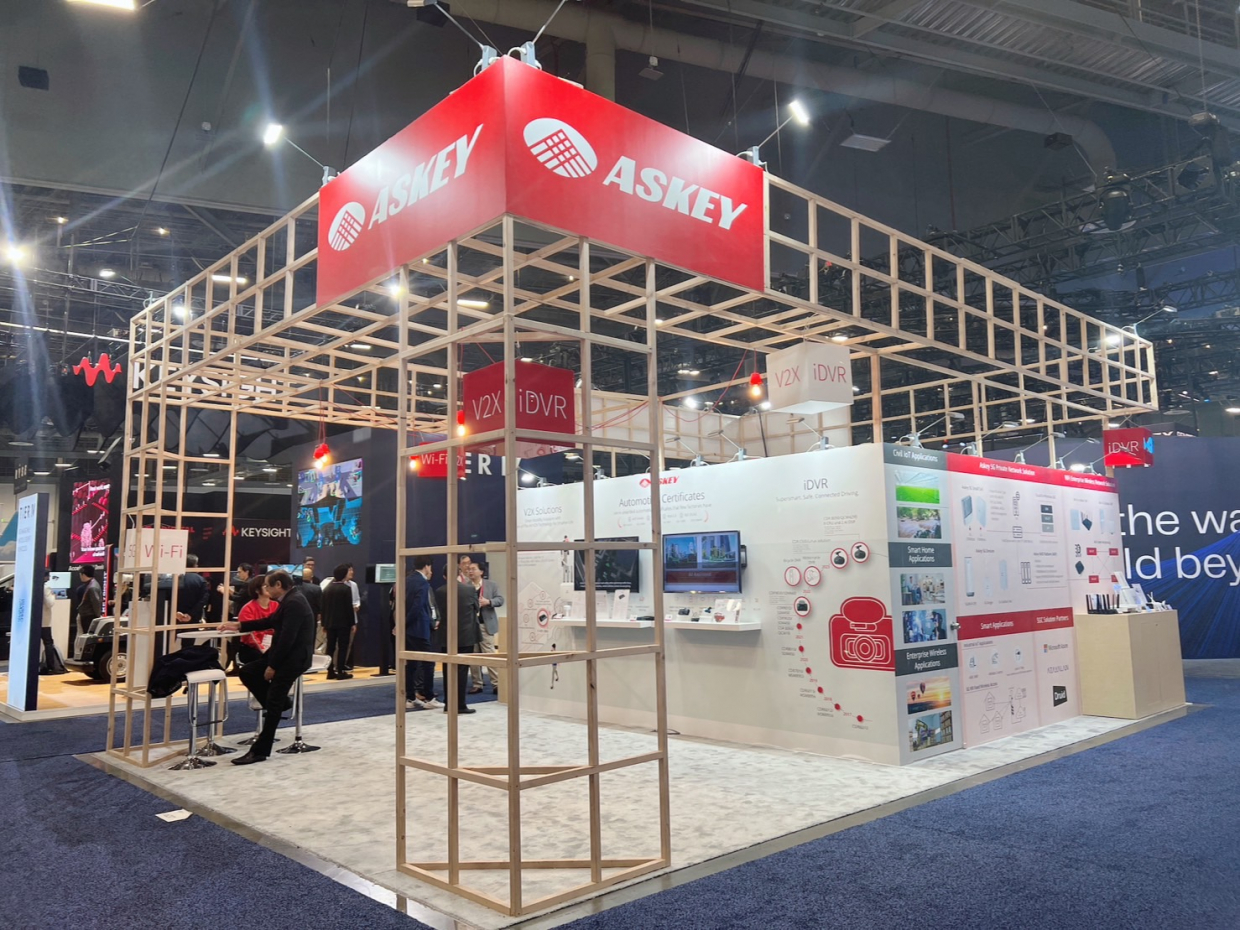 Las Vegas, January 2023
— Askey's exhibition at CES 2023 will demonstrate the functionality of 5G/Wi-Fi Private Network Solutions including next-gen Wi-Fi 7 application and driving technology such as C-V2X Solutions, Connected Cam/iDVR, etc.
Optimization of Networking Is the Most Important
Networking capability is a key operational tool for enterprises in the 21st century, and how to build a fast, low-latency, stable and secure network has become a crucial issue. With more than 30 years of experience in Netcom service, Askey is actively participating in its alliances' Wi-Fi 7 next-gene chip proof of concept (PoC) and liaising with major carriers in Europe and the United States.
Plus, based on its years of knowledge in Wi-Fi hardware and software, Askey combines the features of Wi-Fi 7 such as a higher network capacity, optimized signal interference mitigation, multi-channel link and improved flexible radio frequency (Multi-RU) to design carrier-grade (TR069) Wi-Fi 7 series products and solutions, expecting to be mass production in 2024 Q1~Q2.
Digital Transformation for Enterprises and Smart Manufacturing for Factories to Fulfill Future Visions
Askey 5G/Wi-Fi Private Network Solutions support Wi-Fi 6/7 new-gene wireless networks with user friendly advantages and integrated management platforms. By integrating multi-functional 5G Small Cells, 5G NR ODUs/CPEs/USB Dongles and Wi-Fi 7 Mesh routers, Askey provides enterprises fast and stable digital networks and let them focus on their critical businesses.
The Company has a wide range of performances in Taiwan and overseas. In addition to the cases of water resources disaster prevention and Smart Agriculture in the Southern Taiwan, the upgraded underwater sensing applications with 5G private network for National Museum of Marine Science & Technology, and the AR of Kaohsiung Shoushan Smart Zoo, Askey also cooperated with ChungHwa Telecom to participate in the end-to-end 5G network solutions project of National Development Council for Kaohsiung Light Rail. By adopting Askey's 5G CPEs and Small Cells, it effectively prevents collisions between light rails and platforms, improving the public transportation comfort and safety.
This 5G/Wi-Fi Private Network Solutions can be applied to the manufacturing sites. By integrating AIoT technology and solving the pain points of huge data transmission congestion, unstable connection and non-instantaneous generated information, they provide real-time information of manufacture and optimized factory management. For example, to build a smart factory in Q4 this year, one of top 100 listed companies in Taiwan adopted Askey's 5G CPEs, which utilize next-gene 5G SA mmWave and Sub-6GHz NR-DC technologies, and will realize the world's first 5G SA mmWave NR-DC SA smart factory.
Upgraded Vehicle-to-everything System Redefines Smart Transportation
The Company has developed vehicle devices and road system configurations that combine vehicle-side/OBU, road-side/RSU, and cloud-based advanced technologies for smart transportation, allowing mobile technology to traverse urban and rural areas.
The iDVR and 5G C-V2X OBU system are the main "vehicle-side" technologies, collocating with AI sensing, assisted driving, UBI car insurance system construction and more, detecting vehicle movement and trajectory to facilitate fleet logistics management.
The 5G C-V2X Solutions are designed for road networking and intelligent roadside device 5G C-V2X RSU, through the networked information between vehicles and vehicles, vehicles and roadside infrastructure to integrate roadside system and AI intersection detection facilities, functioning as real-time control of signals, providing road conditions and drivers' information to pave the way to safer roads.
Demand Responsive Transport Services (DRTs) achieve ESG energy saving and carbon reduction through "Cloud" backend fleet dispatching and vehicle network travel control system, as well as vehicle-side and bus stop-side pedestrian flow analysis system to optimize the traffic and transportation management.
With long-term cooperation with the public sectors, Askey has been optimizing bus stops with Wi-Fi hotspots, e-paper bus stops signs, and solar power technologies for Taipei City since 2017. Now it has developed demand-responsive buses and successfully introduced to most counties and cities in Taiwan and overseas. For example, the Tainan Shalu Smart Bus Stop Sign fulfills the "demand-responsive bus" smart transportation platform system service by integrating those above core technologies. Askey also provides Nangang Fire Station's vehicle-side 5G C-V2X OBU and road-side 5G C-V2X RSU systems. By utilizing C-V2X and Real Time Kinematic technologies to generate high-frequency and fast information transmission including emergency vehicles locations, road conditions, and signs control data, they can accurately locate the spots, provide related information to the sign control system. While switching to the priority signals to divert traffic ahead in advance, it can reduce the incidence of accidents, thereby improving the efficiency of disaster response.
Askey's profit had reached more than expected in 2022 Q3, and during CES, it will showcase its most upfront innovations at the
Booth #6217, Las Vegas Convention Center (LVCC) West Hall (Vehicle Tech), Las Vegas
. So be in it!