Askey C-V2X and IoT Omni Solutions Will Be Unleashed in CES 2022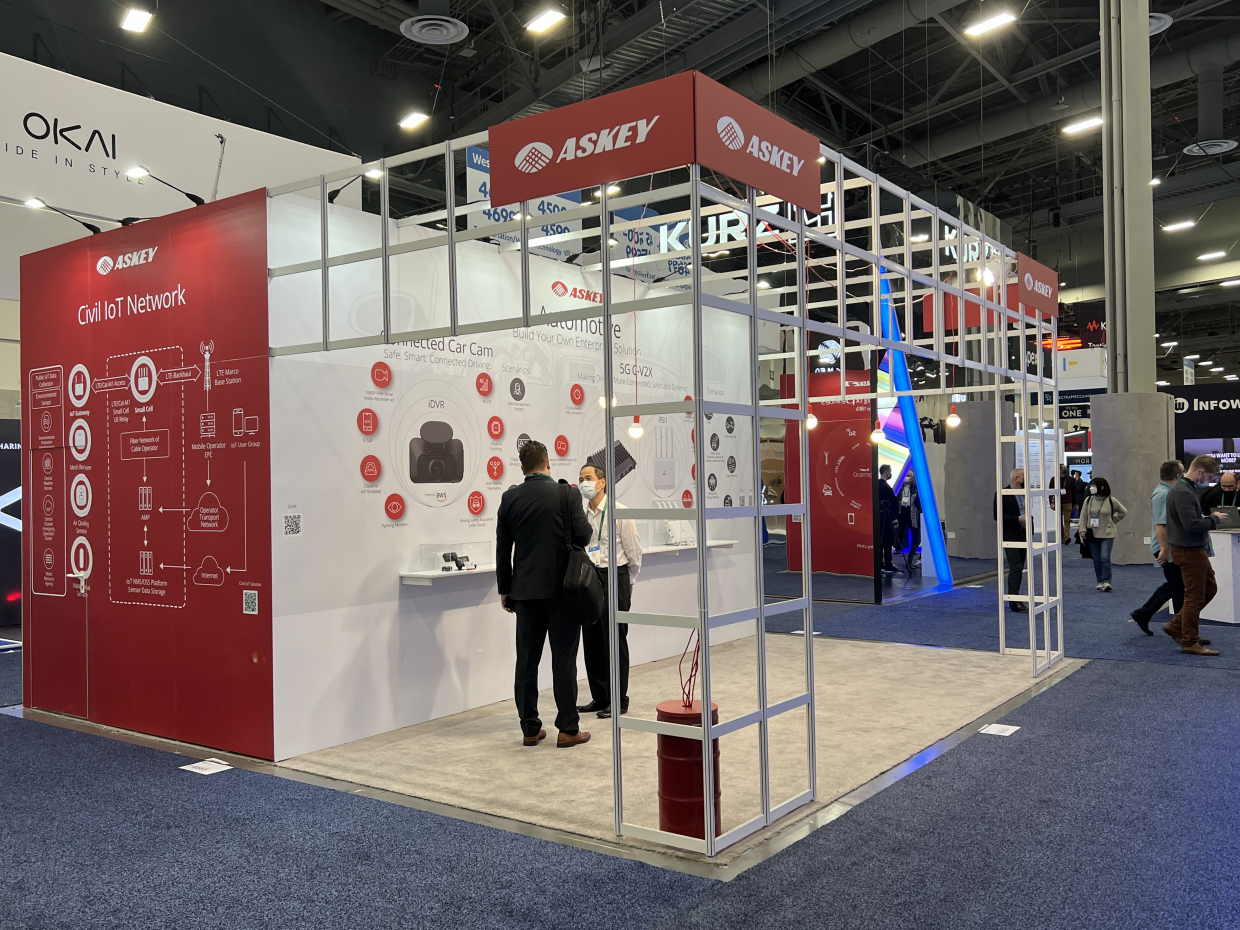 CES 2022, Las Vegas – January 4th, 2022
— Askey is excited to reunite to CES 2022 again, the world's most influential technology event. We hospitably invite you to join our current innovations and state-of-the-art technology solutions. Askey will showcase our latest broadband connectivity and automotive V2X solutions including Connected Car Cam/iDVR with sales over two million globally, 5G OBU and RSU focusing on safety, efficiency and multi-interaction applications making driving smarter, securer and greener. We also reveal IoT solutions for Smart Home and civil applications, innovatively proposing the Cat-M1/Bluetooth IoT gateway and LTE/Cat-M1 backbone for the Civil IoT's dedicated network.
Equipped with 4G/LTE communication, iDVR provides in-car connectivity as Internet Access for passengers, emergency call and real-time data streaming. Through touch screen with Android system, it is handy to operate while driving. It also supports visual AI enabling such as traffic signal detection, pedestrian detection, driver behavior detection or parking monitoring to secure drivers and cars anytime and anywhere. When there are emergency situations and car accidents, it will trigger to record and make footages automatically with uploading to the Cloud, which is an ideal option for fleet management and insurance companies to operate vehicles more efficient and securer.
Through multiple high-speed I/O ports, our auto-grade design 5G C-V2X OBU and 5G C-V2X RSU compliant with NEMA 6 IP67, they not only perform precision GPS with RTK for centimeter level, but also provide real-time information by Intelligent Transportation System such as traffic signal for road work warning, in-vehicle signalization, intersection warning and emergency vehicle priority. By 5G bandwidth with low-latency and diverse communications, these devices build up omni ITS solutions, exactly a smart management platform provided by Askey for future-proof solutions.
Based on over 35 years Netcom experience, Askey develops diverse IoT solutions for home and the public. Through Bluetooth 5 Mesh gateway as a control center within home network, by connecting up to 20+ devices including sensors, IP Camera, and diverse Bluetooth/Wi-Fi home appliances supporting different Cloud platforms and voice control, Askey IoT solution fulfills entertainment, security, and energy efficiency for Smart Home application.
For the public, we collaborate with governments to build Civil IoT solutions by integrating the sensors of air quality, water resource, and earthquake in sensor stations for developing smart disaster prevention analysis and improving the government emergency preparedness and response. By our LTE/Cat-M1 core network and the integrated utilization of B20 LTE/Cat-M1 small cell with built-in LTE UE relay, connecting by IoT Cat-M1 gateway to get data from sensors in fields, we provide end-to-end enterprise private networks with customized infrastructure systems and service in one place to meet critical requirements for vertical application.
Askey is honored to showcase our latest innovations and solutions in CES 2022. Come and experience relevant solutions that will enchant your customers and give you a clear competitive edge. We look forward to seeing you in Booth# 4665, West Hall, LVCC, Las Vegas.
For more information, please visit our website
https://www.askey.com/products/automotive-connectivity/