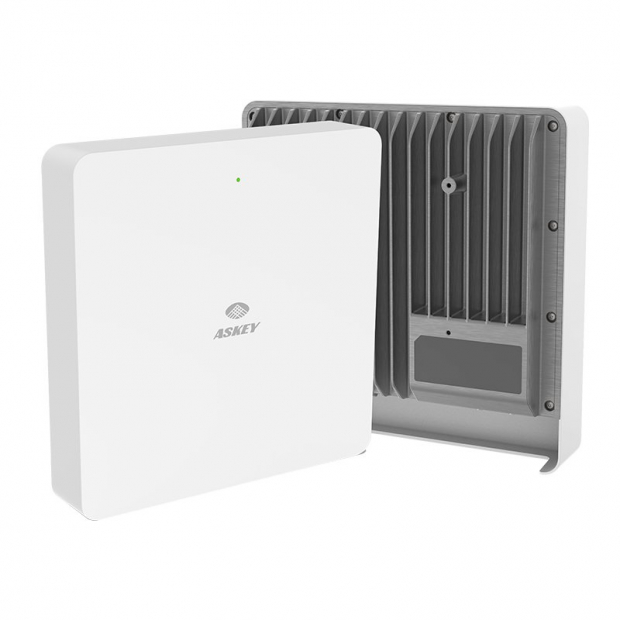 SCE2120
5G Sub-6 Indoor Small Cell
All-in-one Askey SCE2120 supports N48/N77/N78 band and the indoor connectivity, fully delivering a superior network
access experience.

This compact small cell has integrated baseband and radio. By providing a high-performance data service with wide
bandwidth and 2 x 2 MIMO, clients can deploy the 5G network with easy plug-and-play installation and backhaul.

The SCE2120 Small Cell is a part of the carrier-grade, end-to-end Askey Small Cell solution that is suitable for diversified
scenarios, such as elevators, factories, hospitals, underground parking, shopping malls, smart buildings and more.
General
Band
N48 (3.55~3.7GHz)
N77 (3.55~4.2GHz)
N78 (3.55~3.8GHz)
Bandwidth
N48: 20/30/40MHz
N77: 40/50/60/70/80/90/100MHz
N78: 20/30/40/50/60/70/80/90/100MHz

Max. TX Power
N48: EIRP < 30dBm
N77/N78: 24dBm
Antenna
Internal/External 2x2 MIMO
LED: 1 LED
Backhaul: 2.5G WAN/10G SFP+
Power Supply: DC 12V/POE++
Power Consumption: <40 W
Active Users: 16~32
Data Rates: 700Mbps/100 Mbps
Installation: Wall/Ceiling mount
IP Grade: IP50
Dimensions
250 x 250 x 65 (WxHxD, mm)
Weight
Environmental
Operating Temperature: -5℃ ~ 50℃
Operating Humidity: 90% maximum, non-condensing
Operations and Maintenance
Fault Management
Configuration Management
Performance Management
Security Management
Software Upgrade
Features
SA Network Architecture
3GPP Release 15
DL/UL Resource Scheduling
Self-Organizing Networks
All-in-One Product
NG/Xn Handover
Measurement Report
WebGUI Management
SAS-CBSD WINNF SAS-CBSD Interface